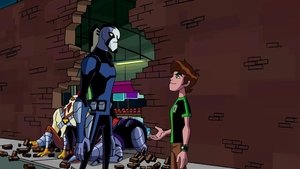 1x1 – The More Things Change: Part One
Now on his own, Ben sets out to be a solo superhero, with new alien heroes at his disposal, but Grandpa Max has other plans. (Introducing Rook, Malware, Khyber, Nemetrix alien Crabdozer, new Ben aliens Feedback & Blox, Pakmar)
Gesehen von 1 User
1x2 – The More Things Change: Part Two
Ben and Rook discover an underground city beneath Bellwood populated with aliens! But who is terrorizing them? (Introducing Nemetrix alien BugLizard, & Ben alien Shocksquatch, Psyphon, Fistina, Bubblehelmet, Liam)
Gesehen von 1 User
1x3 – A Jolt from the Past
Alien pests from Ben's youth come back, but now they need Ben's help. (Introducing Fistrick, & new Ben alien Gravattack)
Gesehen von 1 User
1x4 – Trouble Helix
Flashback episode: Young Ben, Gwen, and Grandpa Max visit Azmuth on Galvan Prime. There, they have their first encounter with Malware, a corrupted Mechamorph who's determined to make Azmuth cure him, by any means!
Gesehen von 1 User
1x5 – Have I Got a Deal for You
Ben and Rook must stop a giant rampaging alien from destroying Bellwood while dealing with a peace-loving alien-rights activist who doesn't want it hurt. (Introducing Hokestar, Solid Plugg 1st appearance, Pax, Sunder)
Gesehen von 1 User
1x6 – It Was Them
Dr. Animo has escaped his Plumber prison, and Ben and Rook must track him down before he turns the world into his personal mutant ant farm!
Gesehen von 1 User
1x7 – So Long, and Thanks for All the Smoothies
When Ben and Rook investigate a mysterious alien ghost ship, they discover that Argit and the Vreedle Brothers are fighting for possession of a doomsday device!
Gesehen von 1 User
1x8 – Hot Stretch
Ben and Rook encounter a race of elastic, hot-blooded aliens in Undertown who want to use a stolen nuclear fusion engine to activate a volcano!
Gesehen von 1 User
1x9 – Of Predators and Prey, Part 1
Khyber and his Omintrix possessed pet have been testing Ben's skills and gathering information. They now use their collected knowledge to finally face Ben in battle.
Gesehen von 1 User
1x10 – Of Predators & Prey, Part 2
After a heated argument, Ben and Rook go their separate ways, giving Khyber the Huntsman his best chance to capture Ben!
Gesehen von 1 User
Quelle:
themoviedb.com